A range of alloy for the creation of jewellery and arts & crafts
Datasheet Arts & Crafts
Expertise Jewellery Arts and Crafts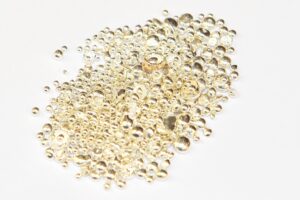 Metaconcept Group has developed a range of jewelry alloys, specialty alloy compositions designed for the creation of jewellery and arts & crafts using a number of technologies.
Available in bars, sheets, ingots and wire forms and in powder and pellets formulas, we can also adapt any alloy requirement according to your specific production requirements. Jewellery alloys include both lead-based and lead-free products, made from prime quality metals which offer excellent surface finish and resistance to slagging. The Metaconcept multi- process centrifugal casting range provides the quality materials for work ZAMAK or polyurethane resin.
Available for fast and reliable delivery anywhere in the world, discover the tin-based, ECOBIJAL alloys for centrifugal casting and laser-cutting, low-melting point alloys of the CERRO® trademark for electroforming of hollow type articles and for anchoring and embedding of very small parts. For modeling and moulding design technology, manufacturers can rely on the quality of our dual-component liquid silicones and casting machinery and consumables.
Thanks to our expert members, the Metaconcept Group stands out as a leader in innovative, new generation alloys and technologies for the arts, crafts and jewelry sector.
About the METACONCEPT Group, specialist in the composition and design of jewlery alloys
Metaconcept Group is the French-based specialist in the design and composition of non-ferrous metals, welding consumables, anti-friction alloys and low melting point alloys for automotive, medical, food, aeronautics and arts & crafts sectors. All products are thoroughly tested for quality and performance and meet industry and international standards. We are at your disposal for advice regarding use of alloys and provide tailor-made training for your workshops and production lines. Product specifications and certification of our products are available on demand. If you would like any further information about our jewelry alloys and services, do not hesitate to contact us.
METACONCEPT Groupe
Parc des Sables – 17 Route des Sables
69630 Chaponost
FRANCE
France : 04 78 51 38 38
Export : +33 478 518 597