metaconcept Group Presentation
Specialist in pure metals, tin based alloys, soldering and brazing consumables, recycling.
Active group committed to energy transition.
The three branches

of the metaconcept group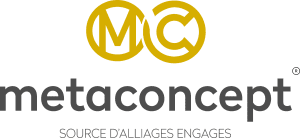 metaconcept France
metaconcept designs and manufactures tin-based alloys and associated fluxes intended for soldering and any industrial application requiring the use of metals in any form (ingots, bars, rods, wires, laminates, powders, preforms, etc.). metaconcept provides as well brazing and welding consumables.
metaconcept France, branch of the metaconcept group, is in charge of the domestic market. Associated with the metaconcept performance institute, the team develops future common alloys and solutions for critical applications. The company offers a whole range of products dedicated to various activity areas such as aeronautics, nuclear, automotive, construction, packaging, mining, security, medical, table art, costume jewellery, fashion etc. and more generally for all industries using tin-based alloys in their processes.

metaconcept International
The export branch of the metaconcept group, metaconcept International manages international markets and covers all five continents, exporting to more than 50 countries.
A multilingual team with members speaking French, German, Italian, Spanish, English, Arabic, Chinese and Romanian, is at your disposal.
metaconcept International is in charge of French export resellers and overseas territories as well.

metaconcept recycling
The recycling branch is exclusively dedicated to the recycling and recovery of non-ferrous metal scraps/residues. Besides, the company has designed exclusive internal systems for separating complex metal scraps (based on tin, lead or silver). These high purity recycled metals are reallocated to other purposes while avoiding pollution.
Certifications
& standards
metaconcept meets the certification standards required by the metal industry enabling then a consistent quality for products and services.
Developed by independent bodies, these standards guarantee compliance with the technical regulations relating to the characteristics of our products and our services as well as their method of manufacture and marketing.
All our products are manufactured according to our own specifications or in collaboration with our customers. For both brazing and soldering consumables, the manufacturing specifications meet the most demanding standards.
ICPE (Environmentally Protected Facility) declaration metaconcept
ISO 9001 certification metaconcept
Cross-border shipment of waste – metaconcept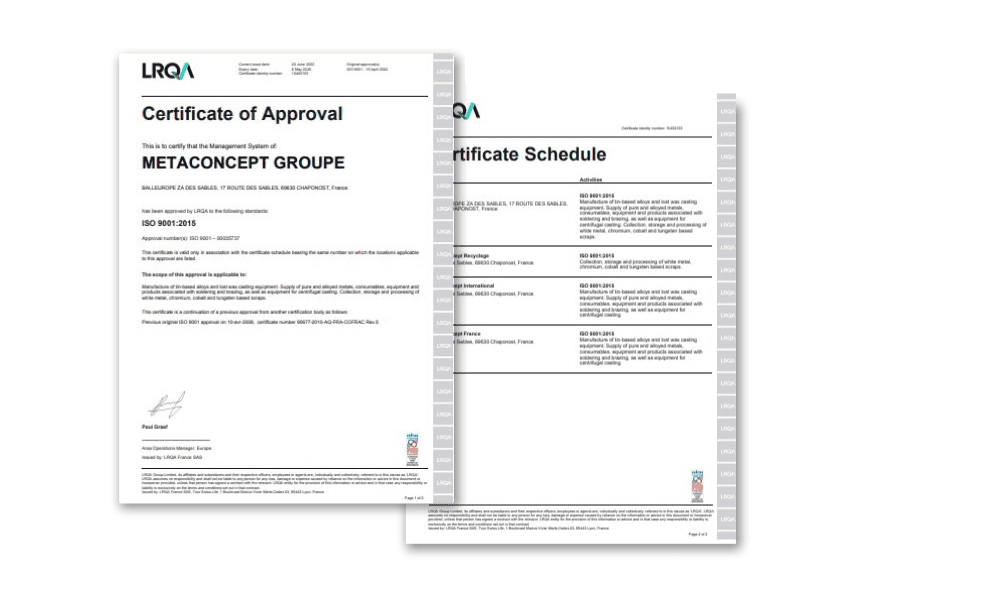 For the company
ISO 9001:2015 certified activities
ICPE: Installation Classified for the Environment
Authorization for trading in hazardous waste
Transport & cross-border transfer of waste
Active CSR approach
For our products
ISO 9453: soft solder alloys
NF EN 611-1: tin-based products
NF A 56-101: Anti-friction white metals
And also
AWS A5, DIN EN 13411-4, NI2004-64…/…
Compliance with the most demanding standards
Tailor-made manufacturing
Technical support
Application support
International sales force