Quality pewter suppliers for arts, crafts and jewelry parts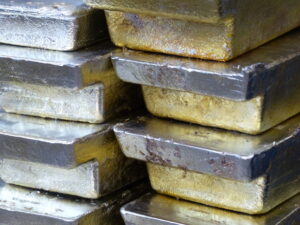 The French specialist in non-ferrous metals and alloys, the Metaconcept Group, is a global supplier of the traditional, metal alloy, pewter. The tin-based alloy is a low melting point, fusible alloy with solidus /liquidus varying according to the specialty composition. Thanks to our expertise and research and development laboratories, we provide standard and custom-made pewter alloys to match the exact requirements of each manufacturing sector.
CERRO® low melting point alloys
Pewter alloys for parts in medical, aeronautics, automotive and food processing equipment by Metaconcept Group include, quality brands, such as the CERRO® low melting point alloys formulated by the group's benchmark brand, Bertrandias. Discover the high quality compositions for a complete range of applications and parts.
The CERRO® range offers lead-free, green alloys, suitable for centrifugal casting of molds, dies, settings and electroforming mandrels, as well as, task-specific alloys for bending, anchoring and applications involving fragile mechanical piece settings or requiring extremely low melting point temperatures.
The innovative ECOBIJAL MS range, elaborated by Metaconcept Group leads the way for excellent quality pewter alloys used in the arts & crafts industry, in particular, for the design and manufacture of fancy or costume jewelry. From the casting of models and molds to laser-cutting, casting of all types of jewelry parts, the ECOBIJAL MS pewter is both ecological and easy-to-use in a variety of environments and settings. We select only high quality pure metals for our alloys and verify composition during and post production processes which allow us to guarantee the performance of our specialty pewter alloys.
French-based pewter supplier
The METACONCEPT Group is a French-based pewter supplier, part of a complete range of pure metals, non-ferrous alloys, Babbitt alloys, fusible alloys, fluxes, centrifugal casting technologies, currently distributed to over 50 countries worldwide. We put our expertise at your disposal for consultancy, training support for use of any of our products. If you would like any further information about our pewter alloys and services, please contact us.