Certifications & Standards
In our continuing pursuit of quality, our company is committed to a certification process to meet the requirements of the most recognised standards.
Developed by independent bodies, these standards guarantee our compliance with technical regulations relating to the characteristics of our products or services, as well as manufacturing and marketing methods.
All our products are manufactured according to extensive specifications written by the METACONCEPT Group or together with our clients. For brazing, soldering and welding products, the manufacturing specifications meet the highest of standards.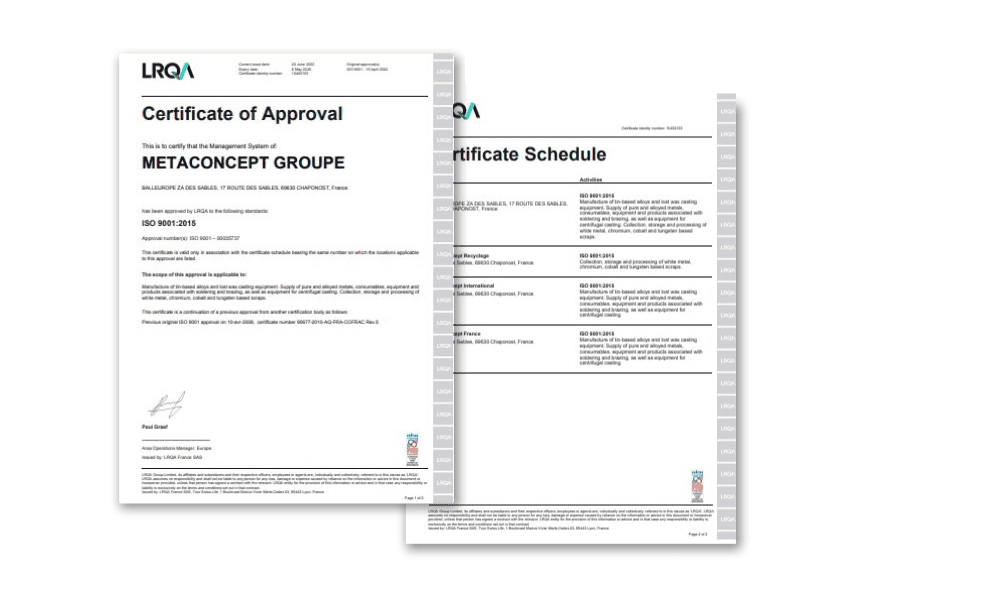 For the company
For our products
ISO 9453: soft soldering alloys
NF EN 611-1: tin-based products
NF A 56-101: Babbitt white metals
ICPE Declaration – METACONCEPT Group  (399.23 KB)
ISO 9001:2015 certificate METACONCEPT (219.13 KB)
Cross-border_transfer_waste_2014  (32.32 KB)
AWS A5, DIN EN 13411-4, NI2004-64…/…
Patented alloys and brands
Standard and customer dedicated specifications
Technical support
Design of products dedicated to customers (Jewellery, Aeronautics, Semi-conductors,…)
See all brochures and datasheets here