Lead-free alloys : specialty alloys and technologies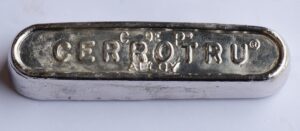 Lead-free alloys, used widely by manufacturers in the medical sector and the arts and crafts industries for jewelry and costume jewelry production provide the mechanical properties of  traditional, lead-based compositions but provide greater safety for environment and users. Metaconcept Group supplies a range of lead-free alloys to meet the needs for specific applications and production processes, available in flat bar, wire, sheet and ingot forms. Our specialized companies in alloys allow us to offer compositions from a vast catalogue of tried and tested designs and create bespoke alloy solutions for your parts or components.
ECOBIJAL MS, lead-free alloys
Discover the ECOBIJAL MS, lead-free alloys, suitable for arts & crafts and elaborated for laser-cutting, centrifugal casting with ZAMAK or polyutherine resin… made from high quality, pure metals, our alloys have the excellent surface appearance for the elaboration of jewelry and crafts and offer improved slagging resistance. ECOBIJAL MS is the innovative, specialty alloy and a leading product by Metaconcept Group for this sector.  An easy-to-use alloy for all types of jewelry parts, it also responds to different production environment and temperature settings. ECOBIJAL MS is lead-free, cadmium-free, nickel-free alloy with guaranteed low melting point thanks to our rigorous quality controls both during composition and post-production verifications.
METACONCEPT Group is a leader in the design and manufacture of non-ferrous alloys, Babbitt alloys, fusible alloys and fluxes and consumables and accessories for brazing and soldering applications. Our product range includes filler metals, pure metals and alloys, and the latest technologies in centrifugal casting. Our product data sheets and certification are available on request. Metaconcept Group is also an expert in complex metal recycling and is an accredited training establishment. If you require any further information regarding our lead-free alloys or services, please contact us.
About the METACONCEPT Group
As the French specialist in non-ferrous alloys, Babbitt alloys, fusible alloys (with low melting temperatures) and fluxes used for industrial brazing and soldering, the METACONCEPT Group offers a wide range of filler metals, pure metals and alloys, as well as high-tech equipment for centrifugal casting. Not only is the METACONCEPT Group an accredited training organisation, it also develops complex metal recycling processes. This range of expertise makes it a key player on a global scale.